Welcome! Bienvenidos!
Prior to 2013, seniors in Holyoke gathered in the basement of the War Memorial Building, the old site of the Council on Aging. Our new Senior Center is bright, colorful, welcoming and has quickly filled with seniors, their families, and caregivers, taking part in a multitude of activities. Visit our center if you need a lunch spot or an exercise haven, to take advantage of our social services or transportation, or simply as an excuse to get out of the house for the day. We pride ourselves on being open and friendly, diverse and accommodating.
Antes de 2013, las personas mayores de Holyoke se reunían en el sótano del War Memorial Building, el antiguo sitio del Council on Aging. Nuestro nuevo Centro para personas mayores es brillante, colorido, acogedor y se ha llenado rápidamente de personas mayores, sus familias y cuidadores, que participan en una multitud de actividades. Visite nuestro centro si necesita un lugar para almorzar o un refugio para hacer ejercicio, para aprovechar nuestros servicios sociales o transporte, o simplemente como una excusa para salir de casa durante el día. Nos enorgullecemos de ser abiertos y amigables, diversos y complacientes.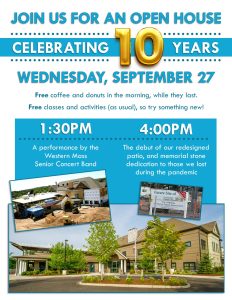 - Celebrating 10 Years -
Believe it or not, it's been 10 years since we moved into our new building! Join us on Wednesday, September 27 to celebrate with free coffee and donuts, and free classes (actually, they're always free!). The day will also feature a 1:30pm band concert, and the debut of our redesigned patio space at 4pm.
- Celebrando 10 Años -
Lo creas o no, ¡hace 10 años que nos mudamos a nuestro nuevo edificio! Únete a nosotros el miércoles 27 de septiembre para celebrarlo con café y donuts gratis, y clases gratis (en realidad, ¡siempre son gratis!). El día también contará con un concierto de la banda de 1:30 pm, y el debut de nuestro espacio patio rediseñado a las 4 pm.
Visit our Events & Announcements tab to see more about current happenings like:
--  Our Annual Senior Picnic
--  Mah Jongg lessons
--  Flu Clinic Opportunities
--  Visits from Atlas Farm Mobile Market
--  And much more!
Para mantenerse al día, suscríbase a nuestra Weekly Email Update.
Visite nuestra pestaña Eventos y Anuncios para ver más sobre eventos actuales como:
--  Nuestro Senior Picnic Anual
--  Clases de Mah Jongg
--  Oportunidades para la clínica de la gripe
--  Visitas del Atlas Farm Mobile Market
--  ¡Y mucho más!
If you would like to utilize our services from home:
--  We can assist you with services by phone or email.
--  We urge you to consider taking part in our Zoom classes.
--  You are welcome to order lunch through our Grab & Go service.
Si desea utilizar nuestros servicios desde su hogar:
-- Podemos ayudarlo con los servicios por teléfono o correo electrónico.
-- Le instamos a que considere participar en nuestras clases de Zoom.
-- Le invitamos a pedir el almuerzo a través de nuestro servicio Grab & Go.
Upcoming Closures
-- Monday, October 9
Próximos Cierres
-- Lunes, 9 de octubre