Welcome! Bienvenidos!
Prior to 2013, seniors in Holyoke gathered in the basement of the War Memorial Building, the old site of the Council on Aging. Our new Senior Center is bright, colorful, welcoming and has quickly filled with seniors, their families, and caregivers, taking part in a multitude of activities. Visit our center if you need a lunch spot or an exercise haven, to take advantage of our social services or transportation, or simply as an excuse to get out of the house for the day. We pride ourselves on being open and friendly, diverse and accommodating.
Antes de 2013, las personas mayores de Holyoke se reunían en el sótano del War Memorial Building, el antiguo sitio del Council on Aging. Nuestro nuevo Centro para personas mayores es brillante, colorido, acogedor y se ha llenado rápidamente de personas mayores, sus familias y cuidadores, que participan en una multitud de actividades. Visite nuestro centro si necesita un lugar para almorzar o un refugio para hacer ejercicio, para aprovechar nuestros servicios sociales o transporte, o simplemente como una excusa para salir de casa durante el día. Nos enorgullecemos de ser abiertos y amigables, diversos y complacientes.
Annual Senior Picnic
Friday, September 16 | Viernces, 16 de Septiembre
Tickets on sale now | Los boletos a la venta ahora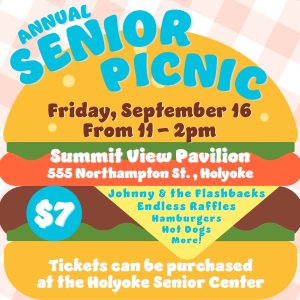 Dance with us, eat with us, party with us! We'll be at Hamel's Summit View Pavilion celebrating our Annual Senior Picnic. Get your fill of burgers, hot dogs, delicious sides, and raffle prizes. Johnny & the Flashbacks will be providing the tunes, and we'll be waiting for you on the dance floor! Tickets will be sold here at the Holyoke Senior Center for $7 starting Wednesday, August 10.
¡Baila con nosotros, come con nosotros, festeja con nosotros! Estaremos en Hamel's Summit View Pavilion celebrando nuestro Senior Picnic. Obtenga su ración de hamburguesas, hot dogs, deliciosos acompañamientos y premios de rifa. ¡Johnny & the Flashbacks proporcionará las melodías y te estaremos esperando en la pista de baile! Los boletos se venderán aquí en el Holyoke Senior Center por $7 a partir del miércoles 10 de agosto.
Visit our Events & Announcements tab to see more about current happenings like:
--  The Annual Senior Picnic
--  Two new clubs: Walking Club & Garden Club
--  And much more!
Para mantenerse al día, suscríbase a nuestra Weekly Email Update.
Visite nuestra pestaña Eventos y Anuncios para ver más sobre eventos actuales como:
--  Las Fiesta Anual: The Senior Picnic
--  Dos clubes nuevos: Walking Club & Garden Club
--  ¡Y mucho más!
Planning Your Visit
As of March 1, masks are no longer required. The city-wide mask mandate has transitioned to a mask advisory for those with a weakened immune system, at risk for severe disease and the unvaccinated. Masks are still required at all times when using our transportation services.
If you feel safer utilizing our services from home:
--  We can assist you with services by phone or email.
--  We urge you to consider taking part in our Zoom classes.
--  You are welcome to order lunch through our Grab & Go service.
Planificación de Su Visita
A partir del 1 de marzo, ya no se requieren máscaras. El mandato de mascarilla en toda la ciudad ha pasado a ser un aviso de mascarilla para aquellos con un sistema inmunitario debilitado, en riesgo de enfermedades graves y los que no están vacunados. Todavía se requieren máscaras en todo momento cuando se utilizan nuestros servicios de transporte.
Si te sientes más seguro utilizando nuestros servicios desde casa:
-- Podemos ayudarlo con los servicios por teléfono o correo electrónico.
-- Le instamos a que considere participar en nuestras clases de Zoom.
-- Le invitamos a pedir el almuerzo a través de nuestro servicio Grab & Go.
Upcoming Closures
Monday, September 5, 2022 - Labor Day
Monday, October 10, 2022 - Indigenous Peoples' Day
Próximos Cierres
Lunes, 5 de septiembre de 2022 - Día del Trabajo
Lunes, 10 de octubre de 2022 - Día de los Pueblos Indígenas