Holyoke Winter Farmers' Market
Holyoke War Memorial, 310 Appleton Street
Holyoke, MA 01040
Open:
December 2nd through march 23rd their will be 9 market days this season! We are looking forward to seeing you all !
A partir del 2 de diciembre hasta el 23 de marzo de 10 AM a 2PM, habrá 9 días de mercado esta temporada! ¡Estamos deseando verlos a todos!
Market Manager: Alexis O. Diaz DeJesus
Walk with a Doctor
"Walk with a Doctor" event in Holyoke, Massachusetts, led by Dr. Melvin Morales Jr. Here are the details:
**When:** Every Thursday at 12:30 PM, starting on October 5th, 2023, and continuing through March.
**Where:** Veterans' Park, located at 536 Dwight Street, Holyoke, MA 01040. Please meet us at the statue in the center of the park.
**What:** Please join your healthcare provider, Dr. Melvin Morales Jr., and other community members for a 30-minute walk.
No sign-up is required, and everyone is welcome to participate.
In case of inclement weather, we'll walk inside at the War Memorial at 310 Appleton Street
Holyoke, MA 01040
Please call 413-420-1734 to check for updates.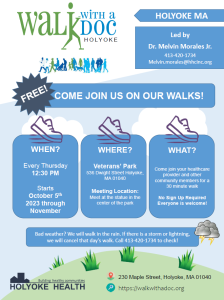 Veterans Lunch
Saint Paul's Episcopal Church, Holyoke,
Every Thursday
12:00 pm - 1:30 pm