10 PM Update – Schools will be open at their regular times tomorrow morning.
The tropical storm was downgraded to a depression earlier this evening. A flood watch will remain in effect until 8 PM on Monday.
5:30 PM Update – Due to the potential for high wind gusts later today and overnight the Department of Public Works will be delaying trash pick up for Monday, August 23 by two hours. This means trash and recycling should be placed out by 9:00AM. Please do not place trash or recycling out tonight.
Buenas tardes, debido a la posibilidad de fuertes ráfagas de viento hoy y durante la noche, el Departamento de Obras Públicas retrasará dos horas la recolección de basura para el lunes 23 de agosto. Esto significa que la basura y el reciclaje deben colocarse antes de las 9:00 a. M. Por favor, no coloque basura o reciclaje esta noche.
4 PM Update – At this point, we are still expecting to receive 4-6″ total from Henri. Sustained winds are expected to be between 20-30 mph, with gusts up to 40 mph, especially through 8 PM tonight. Some additional rain is expected tomorrow as the center of storm turns back toward the east. Because of saturated ground, the potential for falling trees remains a concern. Trees that have fallen onto public ways should be reported to the Fire Department at (413) 534-2250. Report downed wires to HG&E right away at (413) 536-9300. Always assume a downed wire is live.
9-1-1 should only be used for emergency situations.
An update on schools is expected later this evening. Officials will spend the next several hours assessing conditions and the expected forecast to assure travel to and from schools can be done safely tomorrow. We will utilize multiple communication tools, including local media, this page, and our social media accounts, to provide an update as soon as a decision is made.
2 PM Update – The National Service issues a flash flood warning for our area. With heavier rain bands coming through the area, potentially up to 2 inches per hour at times, there could be sharp rises in local rivers and streams, urban areas, highways, streets and underpasses as well as other poor drainage and low-lying areas. Avoid attempting to walk or drive through flooded streets. The warning is expected to expire at 5:45 PM.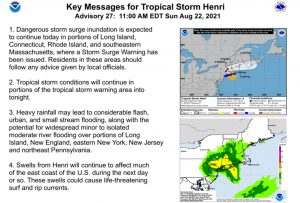 The National Weather Service has announced that Tropical Storm Henri is expected to make landfall in New England Sunday, August 22. The current forecast has the storm moving into Holyoke this afternoon and lasting through Monday morning. We could receive 4-8 inches of rain and wind gusts of 50-60 miles per hour. We anticipate localized street flooding and power outages. Power outages could be long in duration due to the scope of the storm. Please check the catch basins and storm drains near your residence and clean any debris that may be blocking them to help prevent flooding. If possible, please stay home and off the roads. If you see flooded roads turn around. Stay away from downed power lines. Secure any loose items in your yard. Only call 911 for immediate emergencies. During this weather event please look out for your neighbors. Please refrain from using candles if the power goes out. Flashlights are a much safer option.
If you have a portable generator, make sure it is hooked up correctly and operated outside away from any openings in your house. Generators produce carbon monoxide  which is deadly if it enters your home.
During the storm, you can monitor outages throughout the city using the outage map that is regularly updated by HG&E.
Stay safe, we will provide additional information on our Facebook page as this event develops.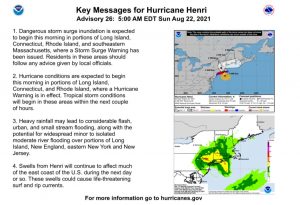 Here is more detailed information from Mass.gov
What to do during a Hurricane
Avoid driving or going outdoors during a storm. Flooding and damaging winds can make traveling dangerous.
If you must be out in the storm:

Do not walk through flowing water. Six inches of swiftly moving water can knock you off of your feet.
Remember the phrase "Turn Around, Don't Drown!" Don't drive through flooded roads. Cars can be swept away in just two feet of moving water. If your vehicle is trapped in rapidly moving water, stay in the vehicle. If the water is rising inside the vehicle, seek refuge on the roof.
Do not drive around road barriers.

Continue to monitor media for emergency information.
Follow instructions from public safety officials.
If advised to evacuate, do so immediately. Take only essential items, and bring your pets if possible.
If told to shelter in place:

Stay indoors and away from windows.
Listen to local television or radio for updates.
Conditions may change quickly; be prepared to evacuate to a shelter or neighbor's home if necessary.
What to do after a Hurricane has passed
Continue to monitor the media for emergency information.
Follow instructions from public safety officials.
Call 9-1-1 to report emergencies, including downed power lines and gas leaks.
Call 2-1-1 to obtain shelter locations and other disaster information.
Stay away from downed utility wires.  Always assume a downed power line is live.
Remember the phrase "Turn Around, Don't Drown!" Don't drive through flooded roads. Cars can be swept away in just two feet of moving water.
Stay out of damaged buildings and away from affected areas and or roads until authorities deem them safe.
If you have evacuated, return home only when authorities say it is safe to do so.
Listen to news reports to learn if your water supply is safe to drink. Until local authorities proclaim your water supply safe, boil water for at least one minute before drinking or using it for food preparation.
Check your home for damage:

Never touch electrical equipment while you are wet or standing in water. Consider hiring a qualified electrician to assess damage to electrical systems.
Have wells checked for contamination from bacteria and chemicals before using.
Have damaged septic tanks or leaching systems repaired as soon as possible to reduce potential health hazards.
If you believe there is a gas leak, go outdoors immediately, and do not turn electrical switches or appliances on or off. If you turned off your gas, a licensed professional is required to turn it back on.
If your home or property is damaged, take photos or videos to document damage, and contact your insurance company.

If your power is out, follow our power outage safety tips.

Report power outages to your utility company.
Use generators and grills outside because their fumes contain carbon monoxide. Make sure your carbon monoxide detectors are working as it is a silent, odorless, killer. See more Generator Safety Tips.
If a traffic light is out, treat the intersection as a four-way stop.

If phone lines are down, use social media or texting to let others know you are OK.
Look before you step. After a hurricane or flood, the ground and floors can be covered with debris, including broken bottles and nails.
Avoid entering moving or standing floodwaters. Floodwater and mud may be contaminated by oil, gasoline, or raw sewage.
Clean and disinfect anything that got wet, and take steps to prevent and detect mold. Consider using professional cleaning and repair services. See more tips to recover from flooding.
Throw away food (including canned items), that has come into contact with floodwaters, was exposed to temperatures above 40 °F for more than two hours, or has an unusual odor, color, or texture.  When in doubt, throw it out!
Be a good neighbor. Check on family, friends, and neighbors, especially the elderly, those who live alone, those with medical conditions and those who may need additional assistance.