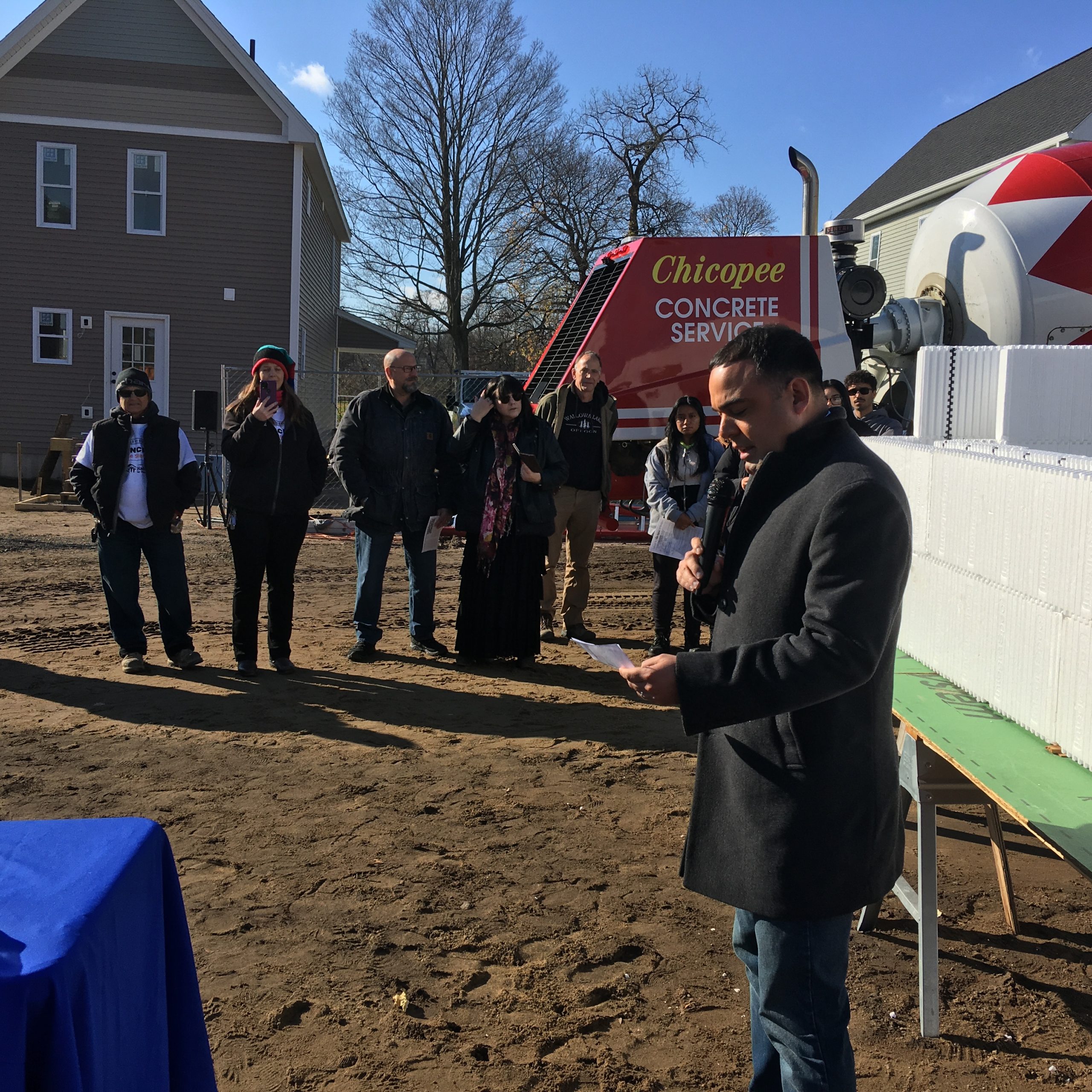 Mayor Speaks at Habitat for Humanity Celebration of New, Unusual House
HOLYOKE — Mayor Joshua A. Garcia spoke on Friday to a gathering of builders, vocational education students and Habitat for Humanity volunteers and staff at a ceremony marking progress on a unique new house.
The house at 360 Chestnut Street is being constructed using insulated concrete forms. It's the first-of-its kind not only in Holyoke but in most other places, as well, because there are only 50 of them across the country.
The building technique involves stacking foam panels, one atop another in double rows. When the panels reach a certain height, concrete is poured between the panels. It's basically a concrete sandwich. The result is a super-insulated, super-strong house.
Mayor Garcia said the City of Holyoke is pleased to host this energy-efficient, cost-efficient, moisture-resistant home.
"And we're always pleased to work with Habitat because a home means hope, and neighborhood revitalization," he said. "It means an affordable, decent place to live for historically under-served populations. It means safety and stability for children and aging in place for the elderly."
When construction is complete, the house will become the home of a single mother with three teenage daughters and a pre-teen son. The woman and her children are survivors of domestic abuse. For now, they live in a poorly maintained apartment with mold, a leaky roof and sewage backups. But that will soon end.
Habitat for Humanity's mission is to help low-income families find a path out of poverty by moving them out of substandard housing into decent, affordable homes.
Photo credit: Holyoke Mayor's Office
Photo caption: Holyoke Mayor Joshua A. Garcia speaks to a gathering at 360 Chestnut Street Friday — site of a unique construction project.