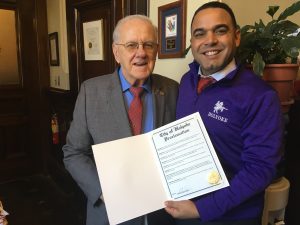 PHOTO CREDIT: HOLYOKE MAYOR'S OFFICE
CAPTION: Mayor Joshua A. Garcia presents Joseph M. Kos with a Mayoral Proclamation saluting his leadership of the Western Mass Polish-American community.
HOLYOKE — Joseph M. Kos of Holyoke, now in his 21st year as President of the Polish-American Congress of Western Massachusetts, was presented with a Mayoral Proclamation this week by Holyoke Mayor Joshua A. Garcia.
The Proclamation was presented the day after Mr. Kos was honored by members of Polish National Alliance Lodge 525 at the group's 70th Anniversary Unitas Banquet.
Mr. Kos wears a number of hats, among them: longtime treasurer of Polish National Alliance Lodge 525, Manager of Pilsudski Park, treasurer of the Polish Miss Massachusetts competition and member of the Board of Directors of the Polish Center of Discovery and Learning in Chicopee.
The Mayoral Proclamation states, in part: "Be it resolved, that the citizens of the City of Holyoke and Western Massachusetts … acknowledge and salute Mr. Kos for his extraordinary good will, stewardship and leadership of the Polish-American community."