HOLYOKE — In English then in Spanish, Holyoke Schools Superintendent Anthony Soto congratulated the Opportunity Academy's Class of 2022 at commencement exercises Thursday morning.
Soto cited the students' "never give up" attitude for navigating hybrid learning and the pandemic on top of their high school curriculum.
The Academy is an alternative school that enables students to continue or restart on the path to a diploma if they are not succeeding at Holyoke High School.
"We're proudly alternative," Executive Director Geoffrey Schmidt said in his remarks to the graduates, their families and friends.
Holyoke Mayor Joshua A. Garcia praised the graduates for their perseverance, for continuing forward despite challenges and obstacles.
"I am so proud of you for what you've done," he said, sounding a theme that was affirmed by speaker after speaker.
Another theme shared was the likelihood of future setbacks.
On that note, Soto quoted boxer Mike Tyson: "Everybody has a plan until they get punched in the face." He cited setbacks experienced by Thomas Edison, Michael Jordan and even himself, when he was turned down for a school job in Holyoke 11 years ago.
Soto also cautioned the grads, in English then in Spanish, with a quote from his mother: "Tell me who your friends are, and I'll tell you who you are." He urged the students to surround themselves with friends who would lift them up and help them move forward.
Student speaker Destiny Smith thanked the Opportunity Academy faculty and staff as well as her mother and grandmother for supporting her efforts to graduate while working full time. It was a struggle, she reported, but it was worth the effort. Here are some outtakes from Destiny's address:
"I can finally say I did it. All the long nights, forcing myself to get up every morning, going to school looking like I don't love myself, massive dark eyes, hair looking crazy. But none of that mattered to me anymore. All I wanted was to finish on time. I didn't want to feel held back anymore.
"My advice to all students who think they can't do it: You can do it. … You can do whatever your heart desires as long as YOU want it. Nothing in life is going to be handed to you, you have to work hard for the life you want."
"Every single teacher in OA deserves more than a thank you for everything they do for their students. They want their students to be successful. They also motivate you to not give up after you finish school. They motivate you to continue with life and do what's best for you."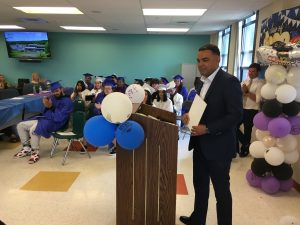 PHOTO CAPTION:
Holyoke Mayor Joshua A. Garcia receives applause after addressing the graduating class June 16.
PHOTO CREDIT: Holyoke Mayor's Office