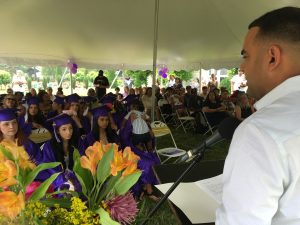 HOLYOKE — Mayor Joshua A. Garcia on June 30 told the Holyoke Care Center's graduating class that he was proud of them because "You haven't allowed circumstances to hold you back. It took persistence and courage to get here."
The Care Center helps young mothers and low-income women go to college. The young mothers who participate in the Care Center's high school level program had all dropped out of school.
At the Care Center, located at 247 Cabot Street, the young women are prepped to take the High School Equivalency exam (HiSET). The effort involves a lot of support, so the Center provides transportation, daycare, counseling, meals, and a nurse practitioner so the students can concentrate on their studies.
And it works: 75 percent of their graduates — all young mothers who have dropped out of school — continue on to college each year.
"What you have accomplished — what you have overcome to get here — is heroic," Mayor Garcia said.
"Speaking of heroics," he continued, "one of my biggest heroes is someone whose journey had a lot in common with your journey."
The Mayor went on to tell the story of a girl born in Puerto Rico in 1969 with a potentially crippling condition. She was brought to Massachusetts for surgery at the Shriners Hospital for Children in Springfield. The girl remained in the area and, like the Care Center grads, became a young mother. But she worked hard, continued her education, had a good career in Holyoke and was devoted to her two children — one of whom, Joshua A. Garcia, became the first Puerto Rican mayor of Holyoke.
"So, when I tell you I'm proud of you, I'm speaking from the heart. And when your baby grows up and someone asks: 'Who is the person you most admire?' They will say — as I do, still today — 'My mother.'