Mask Information & Resources
A Mask Order, in effect as of May 6, was put in place by Governor Baker.
How to Safely Wear a Mask Outside the Home (Video)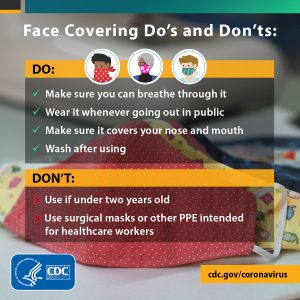 What constitutes a face covering? 
Face covering may include masks, scarves, or bandanas.
When do you need to wear a face covering? 
Inside businesses, workplaces, public transportation, and other interior public spaces where social distancing cannot be achieved.
Are there exceptions? 
Yes, the following are exempted from this order:
Children under 2
Anyone with underlying health and safety concerns which prevents the use of a mask
Does wearing a mask replace the social distancing rules? 
No, maintaining distances of 6' apart, not gathering in groups, and keeping contact with others brief when possible is still encouraged.
Where can I get a reusable mask? 
Essential and frontline workers may request masks made by local volunteers may be requested at DIY Masks of Western Massachusetts.
Individuals facing hardship can request masks via the Western Mass Community Mutual Aid Network