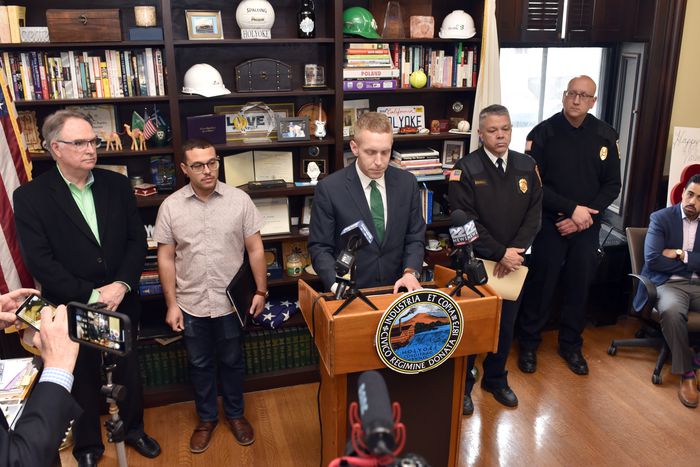 Statement from Mayor Alex B. Morse:
This afternoon, we announced that the St. Patrick's Day Parade and Road Race will be canceled this year in an effort to prevent the spread of Coronavirus. This decision was made this morning following a meeting of the Mayor's Emergency Management Advisory Council which includes the Police and Fire Chiefs, members of the Board of Health, and other public safety and public health professionals. Also in attendance was Marc Joyce, Parade Committee President.
While the State's Department of Public Health continues to advise that the current risk of Coronavirus remains low in the Commonwealth; We are also hearing from the CDC and local public health officials that the best course of action is to implement control measures that can lower and/or delay the epidemic peak.
Control measures include enhanced sanitary education efforts, social distancing, work from home policies, and the postponement of large gatherings.
Lowering and/or delaying the epidemic peak is a critical tool that allows for enhanced preparation locally and statewide. In speaking with our emergency responders, I share their concerns regarding limited supplies of Personal Protective Equipment otherwise known as PPE, and I join them in calling on the state to do whatever is necessary to increase availability of supplies to our first responders.
Over 400,000 people from all over the world come to Holyoke for the Road Race and Parade, and it would be irresponsible of us to carry on with these events as scheduled.
Both the Police and Fire Chiefs have shared their concerns that even the slightest risk of community spread of the coronavirus at the parade could have devastating effects on long-term public safety in Holyoke as both HPD and HFD have all their employees on duty throughout the weekend.
I would also like to make clear that our community's most vulnerable populations are disproportionately impacted by the response to coronavirus and are less able to take the necessary precautions to prevent exposure. That would be even more the case throughout parade weekend.
I want to thank the members of the Parade Committee, and all those who are involved in putting on this event. While many of us view this as a "parade weekend" the planning and engagement is a year-round effort. This decision was not made lightly, but ultimately all those involved agree that it is in the best interest of our public health and safety.
Thank you.