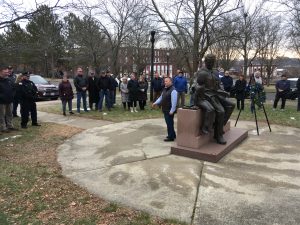 Photo credit: HOLYOKE MAYOR'S OFFICE
Photo caption: Andrew DiNapoli (center) stands behind the monument to his father as he thanks those who gathered for the December 22 wreath-laying ceremony.
HOLYOKE — City police were joined by Holyoke firefighters, City Council members, Mayor Joshua A. Garcia, municipal employees, and members of the community for a wreath-laying ceremony December 22 at the Appleton Street monument to Police Officer John A. DiNapoli.
The occasion was the 23rd anniversary of his death. Officer DiNapoli, a 21-year veteran of the Holyoke Police Department, was shot to death on the morning of December 22, 1999.
Officer DiNapoli had been on administrative duty on that day. When he heard a report on the radio of a disturbance at Walnut and Sargent Streets, he headed that way to assist. He was tailing a suspect when the man
wheeled around and fired at DiNapoli, killing him.
Andrew DiNapoli, the slain officer's son, now a lieutenant in the Holyoke Police Department, addressed the December 22 gathering. He thanked everyone for turning out and showing their respect and wished everyone a Merry Christmas.