Several City Councilors, Conservation Commission members, Board of Health and DPW staff, representatives from Wistariahurst, State Rep. Pat Duffy, Paulo Friere students and neighbors turned out to plant 21 trees that Friday afternoon.
Among the varieties planted in the park were Swamp White Oak, Pin Oak, Black Gum, Sargeant Cherry, American Hornbeam and European hornbeam.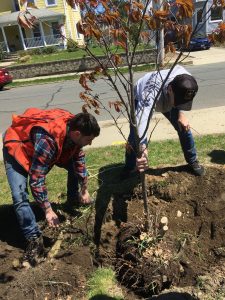 Yoni Glogower (left), Holyoke's Director of Conservation and Sustainability, and City Councilor Peter Tallman settle a sapling into the soil at Kennedy Park on April 29 as part of an Arbor Day tree-planting celebration.