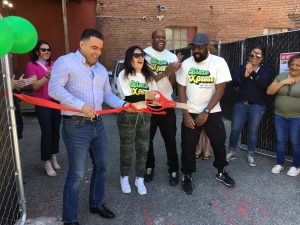 PHOTO CREDIT: HOLYOKE MAYOR'S OFFICE
PHOTO CAPTION: Holyoke Mayor Joshua A. Garcia took part in a ribbon-cutting ceremony April 12 at Blaze Xpress
HOLYOKE — City Hall was well represented Wednesday, April 12, at a ribbon-cutting ceremony for Blaze Xpress, a marijuana home delivery business that opened recently at 85 Sergeant Street.
On hand were Mayor Garcia, City Clerk Brenna McGee, City Solicitor Lisa Ball, City Councilors Kocayne Givner, Israel Rivera and Jenny Rivera, and Holyoke Chamber Executive Director Jordan Hart, among others.
Mayor Garcia said he welcomed the prospect of new revenue for the city as well as new jobs.
Customers can order and pay for cannabis products using the Blaze Xpress website. Blaze Xpress co-owner Duane Harden described the company's age-verification process designed to ensure all some deliveries comply with state law.