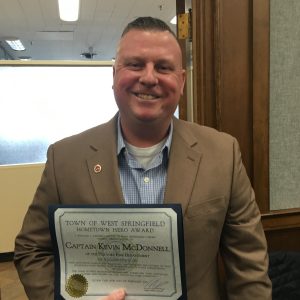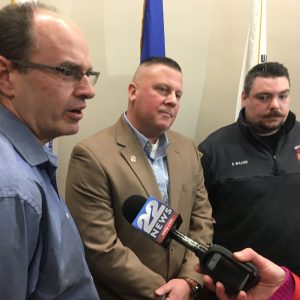 At right: Holyoke Fire Captain Kevin McDonnell shows his award after Wednesday's ceremony in West
Springfield.
At left: Holyoke Fire Captain Kevin McDonnell (center) listens as Agawam firefighter Bob LaFrance talks to
reporters after Wednesday's ceremony. At right is Westfield firefighter Sean Major.
Photo credit: Holyoke Mayor's Office
HOLYOKE — Holyoke Fire Department Captain Kevin McDonnell was honored Wednesday, Feb. 16, as a "Hometown Hero" for his part in reviving a man who was near death due to cardiac arrest.
McDonnell, along with Agawam firefighter Bob LaFrance and Westfield firefighter/paramedic Sean Major, performed life-saving measures on a man who had been skating when he suddenly collapsed at the Olympia ice rink in West Springfield last month.
The three firefighters were honored Wednesday afternoon in a ceremony convened at the West Springfield Municipal Center by Mayor William C. Reichelt.
McDonnell said he didn't think he was a hero.
"We just did what we were trained to do," McDonnell said after the ceremony.
Fire Chief Jeffrey Przekopowski said he "couldn't be more proud" of McDonnell, who was off-duty and playing hockey with several friends, LaFrance among them.
Chief Przekopowski said McDonnell and the other firefighters relied on their training and saved a man during a most critical interval, noting that emergency CPR "during the first couple of minutes" can make all the difference.
McDonnell, accompanied Wednesday by Holyoke Fire Department Captain Kevin Cavagnac, said he was just getting off the ice when he heard there was a man down. LaFrance said the man's pulse was weak. McDonnell applied chest compressions after hearing "agonal breathing" — a sign that a person is near death. Major, who had been at the rink coaching, got hold of an AED (automated external defibrillator) and helped the other two firefighters stabilize the man. West Springfield firefighters were soon on the scene to take over.
McDonnell said he talked on Tuesday to the man they saved. He was on the mend and "taking it easy," he said.
"The way Kevin and the others jumped into action and used their training to save that man's life was awesome," said Holyoke Mayor Joshua A. Garcia, "but I must say, it doesn't surprise me given the talent, training and individual commitment of our firefighters. They swing into action whether on or off duty. Captain McDonnell has done his department and his city proud."