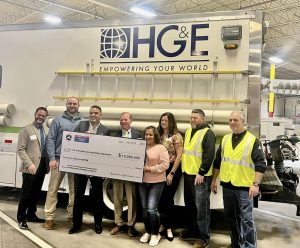 On April 10, U.S. Transportation Secretary Pete Buttigieg and the Pipeline and Hazardous Materials Safety Administration (PHMSA) announced $22 million in grant awards for three communities in Massachusetts, through a new grant program aimed at mitigating safety risk and methane emissions from aging natural gas distribution pipes. The Natural Gas Distribution Infrastructure Safety and Modernization (NGDISM) grant program, established by President Biden's historic Bipartisan Infrastructure Law, provides nearly $200 million a year for a total of nearly $1 billion over five years for the modernization of municipality and community-owned (not including for-profit entities) aging natural gas distribution pipes.
"Investments in pipeline safety are investments in community safety, plain and simple," said PHMSA Deputy Administrator Tristan Brown. "For far too long, underserved communities have had to bear the brunt of aging and dangerous pipelines. This funding will finally give communities the resources they need to replace legacy pipelines—improving safety, protecting the environment, and creating jobs."
The grant awards were distributed among three municipal utilities on Monday, April 10 including Westfield Gas + Electric
(WG+E), Holyoke Gas & Electric (HG&E), and Wakefield Municipal Gas and Electric Light Department (WMGLD).
"The Bipartisan Infrastructure Law continues to deliver results for the people of Massachusetts, and today's announcement is yet another step towards making much-needed improvements to our aging infrastructure," said Congressman Richard E. Neal. "The Commonwealth is set to receive $9.4 billion through 2026, including $21.3 million from the Natural Gas Distribution Infrastructure Safety and Modernization Grant Program. This funding will help mitigate current safety risks stemming from some of our oldest natural gas distribution pipes, all while creating hundreds of good-paying jobs and ensuring the health and well-being of our local communities."
"This substantial grant award will allow us to move more quickly to address our local aging natural gas infrastructure over the next four years," commented Tom Flaherty, WG+E General Manager. "Thanks to the support of our local and state officials, Congressman Neal and the U.S. Department of Transportation for helping us secure this important funding for Westfield." During the April 10 announcement, WG+E and HG&E received $10 Million each as part of this program.
"We appreciate the U.S. Department of Transportation and Congressman Neal for this important investment in Holyoke's aging infrastructure," said Jim Lavelle, HG&E General Manager. "This grant award will accelerate our aggressive infrastructure replacement program, allowing HG&E to upgrade and modernize the natural gas system while enhancing safety and reducing environmental impacts."
In attendance at the Westfield event, Pete Dion, General Manager of WMGLD agrees, "We are honored to be one of the municipal utilities selected for this grant. The work we will complete with this grant will benefit the environment and our customers as we retire our remaining cast-iron infrastructure and a significant portion of our leak prone pipe."
The NGDISM grant program is expected to result in the direct creation of over 600 jobs in rural and urban communities around the U.S.–as well as many additional indirect jobs. Grant funding recipients will repair, replace, or rehabilitate nearly 270 miles of pipe, resulting in a reduction in methane emissions by approximately 212 metric tons, annually, advancing the Biden-Harris Administration's U.S. Methane Action Plan.
The next funding opportunity of $392 million is expected to be released in April of this year. For more information about this grant, including additional resources and information for applicants and stakeholders, visit https://www.phmsa.dot.gov.