Roast Pork Benefit Dinner
5:30pm
United Congregational Church
300 Appleton Street, Holyoke, MA 01040
---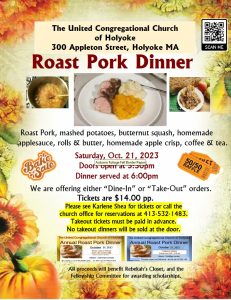 The United Congregational Church
of Holyoke
300 Appleton Street, Holyoke MA
is hosting a Roast Pork Dinner
with all proceeds to benefit Rebekah's Closet, and the
Fellowship Committee for awarding scholarships.
Roast Pork, mashed potatoes, butternut squash, homemade
applesauce, rolls & butter, homemade apple crisp, coffee & tea.
Saturday, Oct. 21, 2023
Doors open at 5:30pm
Dinner served at 6:00pm
We are offering either "Dine-In" or "Take-Out" orders.
Tickets are $14.00 pp.
Please see Karlene Shea for tickets or call the
church office for reservations at 413-532-1483.
Takeout tickets must be paid in advance.
No takeout dinners will be sold at the door.