B-17 Memorial – 75th Anniversary
10:00am - 11:00am
Mt. Tom
Mt Tom Ski Rd, Holyoke, MA 0104
---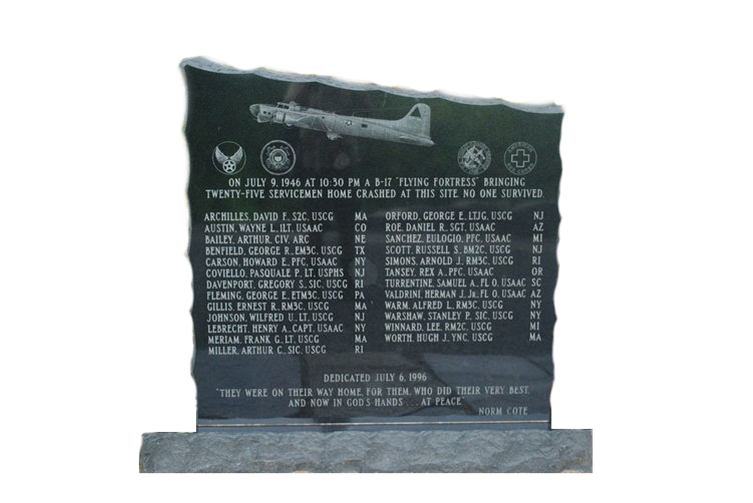 Open to the Public
The B-17 Memorial Committee cordially invites the general public to join us on July 10th, 2021, as we commemorate the 75th anniversary of the B-17 tragedy on Mt. Tom in Holyoke. This year's ceremony also recognizes the 25th anniversary of the B-17 monument unveiling. We ask that attendees arrive at 8:30 am for the 10:00 am ceremony. Parking for the ceremony can be accessed by Mt. Park Rd followed by a right turn to Mt. Tom Ski Rd.
The following description was written by eminent local historian Robert Schwobe of Easthampton, MA:
"On July 9, 1946, a converted B-17 "Flying Fortress" Bomber carrying twenty-five servicemen left Goose Bay, Labrador with a destination of Westover Field in Chicopee.
At approximately 10:20 pm, while circling the area preparing to land, the aircraft approached the mountain from a southerly direction and without warning slammed into an outcropping of rock at about the 900-foot level of the mountain, killing all aboard.
The outcropping of rock that was the crash site, had in the late nineteenth century, been cut to provide a roadbed for the since abandoned cable railway from near Mountain Park to the summit house on Mt. Tom. Wreckage was strewn several hundred yards across the rocky and wooded area on each side of the roadway. The ensuing explosion and fire was quickly extinguished by a heavy downpour that followed the crash.
It was very difficult for rescuers to reach the crash scene since the roadway at the time was just dirt and rock. (The trolley tracks had been removed years earlier) Only military four-wheel drive vehicles were able to traverse the steep twenty-one-degree roadway to the site. Many rescue volunteers hiked the perilous two-thirds mile from Mountain Park.
AT THE CRASH SITE A MEMORIAL WAS DEDICATED ON JULY 6, 1996 TO HONOR THOSE YOUNG MEN WHO DIED SO LONG AGO.
THE B-17 MEMORIAL COMMITTEE ASK THAT YOU RESPECT THE SANCTITY OF THE MEMORIAL AND LEAVE ONLY YOUR PRAYERS
Additional information about the monument, committee, and the crash can be found at https://www.mttommemorial.org/ .