10:00am - 12:00pm
Holyoke City Hall
536 Dwight St, Holyoke, MA 01040
---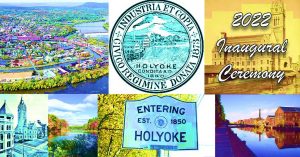 2022 Inaugural Ceremony
Monday, January 3, 2022
10:00 AM
Holyoke City Hall
536 Dwight Street
The City of Holyoke invites the public to 2022 Inaugural Ceremony at the City Hall Auditorium to witness the swearing in of City of Holyoke elected officials. Mayor Joshua A. Garcia will be sworn in as the 45th mayor of the City of Holyoke. Also to be sworn in will be the Holyoke City Council, the Holyoke School Committee, the City Clerk, and the City Treasurer.
The ceremony will begin at 10:01 AM, per City Charter. It will be immediately followed by the City Council's reorganization meeting to elect its president for the term.
All events will be followed by a public reception at City Hall.
At this time, masks are required in all municipal buildings