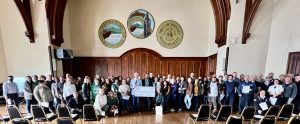 Over the course of the pandemic, City of Holyoke employees have worked diligently to pivot and adapt to the changing environment to keep up with our municipal obligations while attempting to keep our staff and the public safe. The pandemic had created a set of new challenges on top of existing pre-covid challenges employees faced working for the City of Holyoke. For these very reasons, Mayor Joshua A. Garcia announced the city's rollout of employee retention incentive using American Rescue Plan Act (ARPA) funds with the goal of:
Acknowledge those employees who were hired prior to June 30, 2020, who are current city employees, and: a) transitioned municipal operations to remote operations at the start of the COVID-19 pandemic; or b) provided municipal services despite the heightened personal risk of exposure to COVID-19; or c) ensured continuity of services during the height of the COVID-19 pandemic.
Retain existing city employees so as to reduce disruptions to services and programs and provide an incentive to remain with the City of Holyoke as compared to seeking other employment options.
Increase the city's attractiveness and competitiveness amongst other municipalities when recruiting and retaining new employees.
Eligible employees will receive up to $3,000 of retention incentives. Mayor Joshua A. Garcia said, "This investment in our city employees through ARPA (for as long as the program guideline allows) is a short-term gesture as we continue to build on our long-term plan to strengthen the work environment for City of Holyoke employees. Therefore, I am thrilled to be able to prioritize ARPA funds to support this retention incentive."
During the announcement that took place in the City Hall auditorium on Friday, March 18 with city employees present and joined by State Representative Patricia Duffy and Council President Todd McGee on behalf of the City Council, proclamations were presented declaring March 18 "City of Holyoke Employee Recognition Day". The proclamations will be hung on display at City Hall.