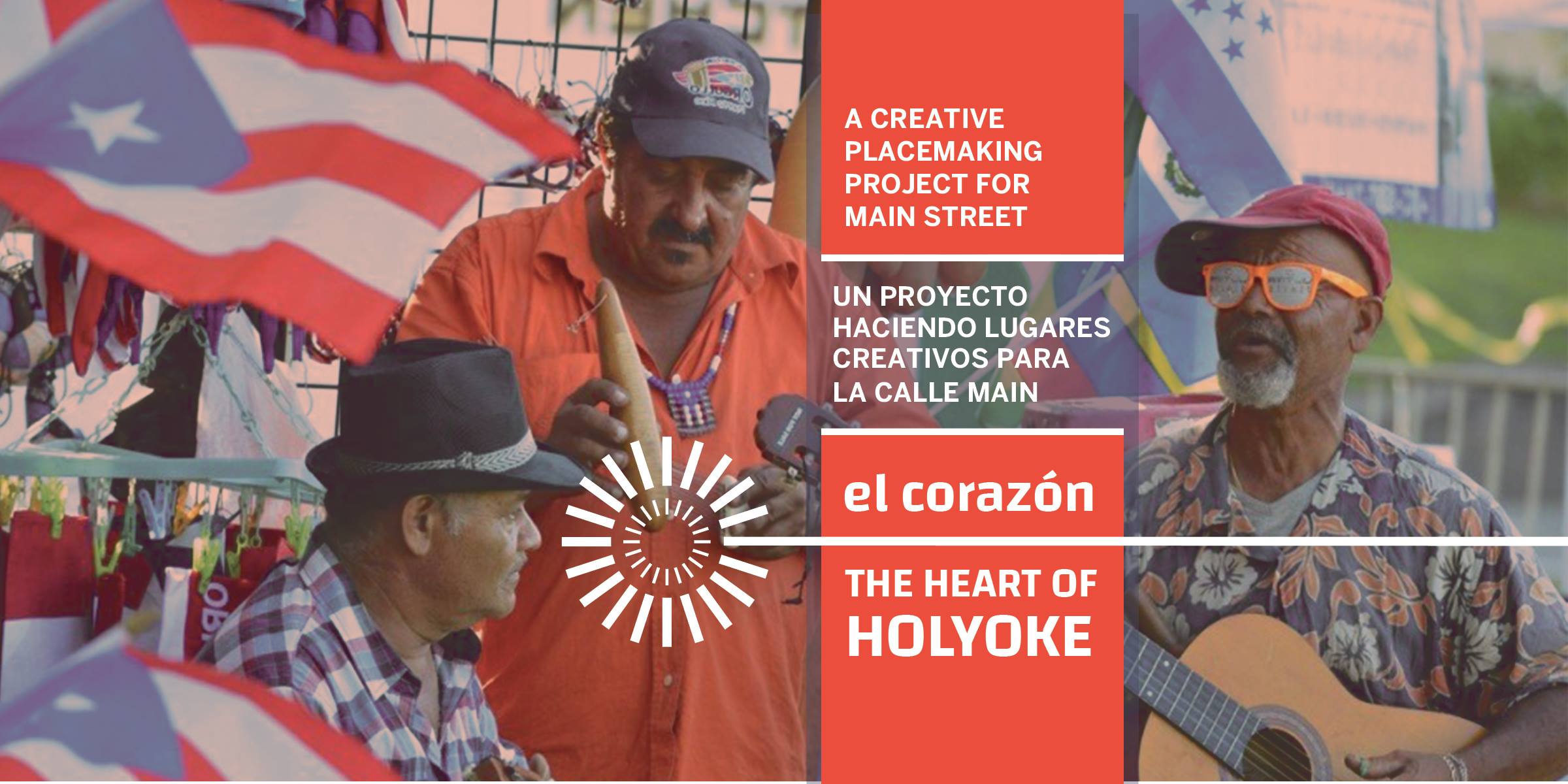 El Corazón / The Heart of Holyoke Placemaking announced two early fall virtual events today. The first is kicking-off the second phase of artistic projects on Tuesday, September 29th with a virtual event titled "¡Comenzamos!". The event will present the selected local artists which will be doing large scale photos on four buildings facing Main Street and a panel mural project on the corner of Sergeant & Main St.
The Large-Scale Photo projects will feature:
Michelle Falcón Fontánez, a multimedia Boricua artist and activist from Holyoke, MA. She has created works in photography, film, theater, and installation art.
Emma G Mesa-Melendez, an artist through portraiture, her artwork deals with social and historical subject matters, and celebrates the ability of national heroes to inspire social causes. Her works include art depicting Agueybana II, Emiliano Zapata Salazar, Francisco Pancho Villa, and Ernesto Che Guevara.
 Giselle Guillén-Martinez, a queer bori-peruana activist, DJ, and multimedia artist born and raised in the Western Mass.
Joelle Bueno from the Dream Collective, an ever-evolving collective of trans/queer people fighting for liberation for all, particularly Black, Indigenous, trans/queer people of color.
The Panel Mural Project will feature Frankie Borrero, Puerto Rican artist born in New York City. Other projects included working with Centro las Americas in Worcester and Pa'Lante organization and Fresh Pain Springfield.
All selected artists will be working closely through mentorship by Shey Rivera Ríos (pronouns: they/them) an interdisciplinary artist, cultural strategist, and arts administrator based in Providence, RI. Shey will also curate and create a Storefront Project alongside four local artists:
Justin Monet, Springfield native and owner of Art by Tenom
Carmen (Yolanda) Gonzalez, Holyoke native, and owner of Creativity Events/Art,
Johnny Miranda, artist, activist, and owner of "oOps!" an art business that offers art classes for adults and children, organizes art exhibits, creates murals, body, and face make-up.
Chelvanaya "Naya" Gabriel, a visual artivist, multimedia storyteller, resilience facilitator, and ecosocial architect.
Shey will serve as a mentor to local artists and provide capacity building in the arts along with three local artists: Michelle Falcón Fontánez, The Dream Club Collective, and Jason Montgomery, a Chicano/Indigenous Californian writer, painter, and playwright from El Centro, California. In 2016, along with Poet Alexandra Woolner, and illustrator Jen Wagner, JRM founded Attack Bear Press in Easthampton, MA.
All art creations are planned to be installed during Fall 2020 and El Corazón / The Heart of Holyoke will host a celebration and virtual tour in Winter 2020.
All selected artists will share their work during "¡Comenzamos!" taking place on Tuesday, September 29th from 6 pm-8 pm.
The second event will be on the closing day of the Hispanic Heritage Month on Thursday, October 15th from 6 pm-8 pm, El Corazón/Heart of Holyoke Project will be hosting a virtual public forum on Cultural Place-keeping and the 'salsa' of Public Art, in which artists can learn what they need to consider when preparing to create public and community-engaged art.
El Corazón / The Heart of Holyoke is an exciting placemaking project celebrating the Puerto Rican Cultural Area of Holyoke. The project supports the creation of a vibrant Main Street with colorful banners, large-scale artworks, dynamic lighting, beautiful murals, food trucks and art festivals; a Main Street that reflects the vital culture of the surrounding neighborhoods; a Main Street that supports emerging businesses with safe and walkable streets. El Corazón/ The Heart of Holyoke aims to develop spaces and places that are reflective of the Center City community surrounding Main Street and promote economic opportunity.
El Corazón / The Heart of Holyoke Placemaking project is possible through the generous support from community members in and outside of Holyoke who donated through the "Commonwealth Places" Crowdfunding Campaign this past spring. The crowdfunding campaign fundraised a total of $25,260, which was matched with a $20,000 grant by the Massachusetts Development & Finance Agency (Mass Development). The City of Holyoke, the National Endowment for the Arts, Holyoke Local Cultural Council, Mass Cultural Council, and our Artistic Director, The Center for Design Engagement (CDE) are key partners for this project. CDE is a non-profit community & design resource center in Holyoke, MA providing progressive design, innovative public art, and civic engagement, particularly in underrepresented communities. Key CDE personnel on this project are Directors Joseph Krupczynski and Caryn Brause. The City of Holyoke's Office of Planning & Economic Development (OPED) is the lead City agency on this project.
Other partners include Mass Development, Nueva Esperanza, Inc., Holyoke Gas, and Electric, the Member Organizations of the El Corazón Advisory Board including Enlace de Familias, South Holyoke Neighborhood Association, One Holyoke Community Development Corporation, Providence Ministries, Holyoke Media, Paper City Clothing Company, Radioplasma Podcast Holyoke – a Holyoke community media project, El Sol Latino, Holyoke Public Schools, and the Puerto Rican Cultural Project.