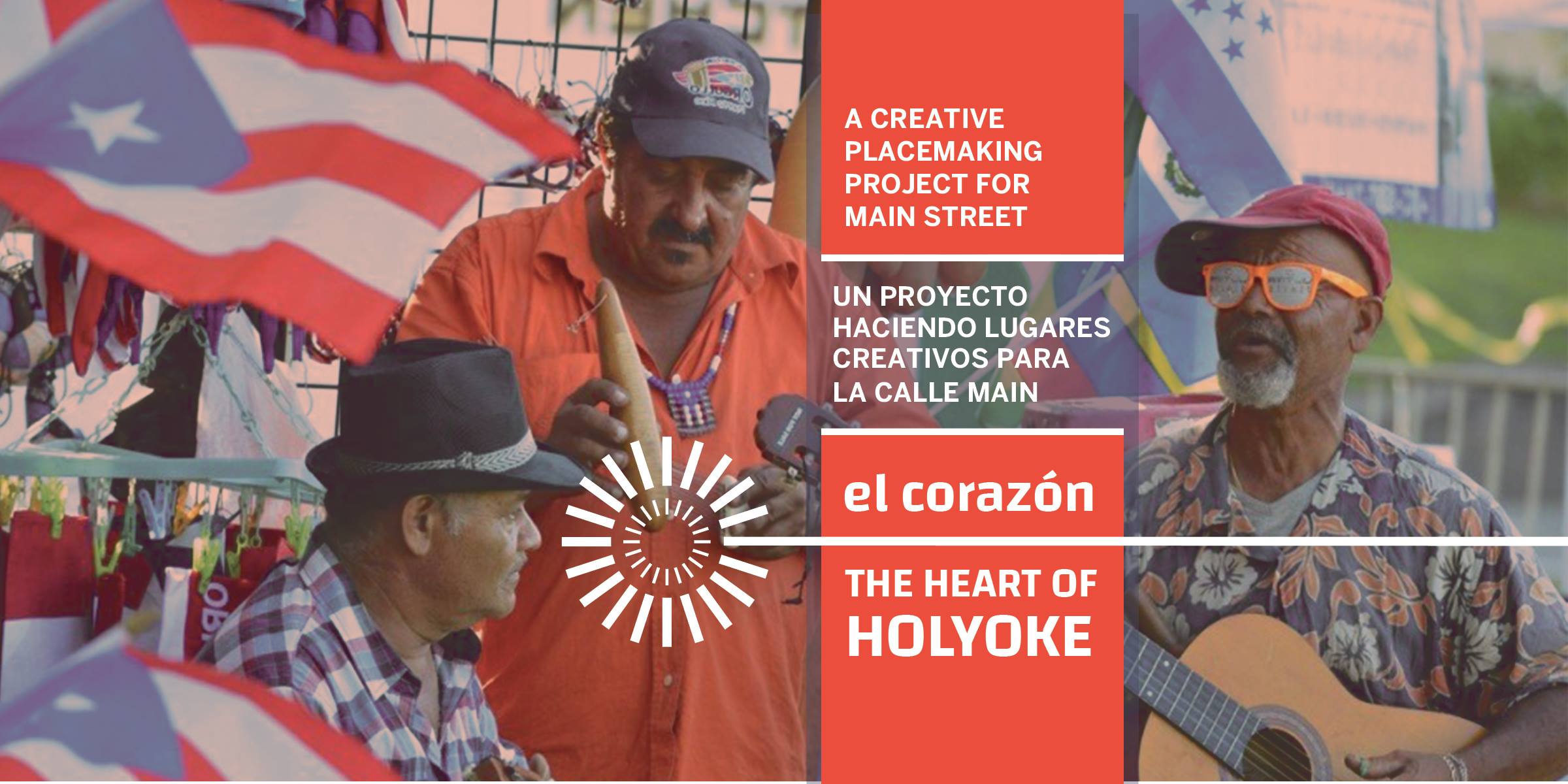 El Corazón / The Heart of Holyoke Cultural Place keeping project is opening the second phase of public art installations for view next week! This phase of work includes Large Scale Photo Banners on four buildings along Main Street, a Panel Mural project on the corner of Sergeant & Main Street, and two Storefront Installation Projects.
The artworks are being installed this week with three walking tours scheduled for the weekend of April 23-24th. Covid-safe, socially distanced tours will take place on Saturday, April 24th from 11:00 am – 12:00 pm and from 2:00 – 3:00 pm and on Sunday, April 25th from 2:00 – 3:00.
Please register online to reserve a spot on a walking tour by Friday, April 23rd: http://bit.ly/corazonwalkingtour
The Large Scale Photo Banners features work by four local artists:
Michelle Falcón Fontánez is a multimedia Boricua artist and activist from Holyoke, MA. She creates work in photography, film, theater, and installation art.
Emma G Mesa-Melendez is an artist who uses portraiture to depict social and historical subject matter and celebrates national heroes that inspire social causes.
Dream Collective, an ever-evolving collective of trans/queer people fighting for liberation for all, particularly Black, Indigenous, trans/queer people of color through art and community initiatives.
Carmen (Yolanda) González, is an artist, Holyoke native, and owner of Creativity Events/Art.
The Panel Mural Project will feature the work of Frankie Borrero, a Puerto Rican artist born in New York City, raised in Worcester, and now living in Springfield. Borrero has also worked with Centro Las Americas in Worcester and Fresh Paint in Springfield.
The three Storefront Installations have been produced under the artistic leadership of Shey Rivera Rios, with collaborating artists Madeline Medina, Yadilette Rivera-Colón, and Chelvanaya Gabriel. Rivera (pronouns: they/them) is an interdisciplinary artist, arts administrator, and community organizer living in Providence, RI. Rivera was invited to be part of El Corazón project by the Advisory Committee of local community leaders spearheading this place-keeping project. In addition to creating and coordinating the Storefront Installations, Rivera has advised the artist selection process and has provided mentorship during the development of the artworks.
Two Storefront Installations are located at Nueva Esperanza, Inc on Main Street, and one is located at the Center for Design Engagement on Dwight Street.
Artists whose work are included in the storefront projects include:
Chelvanaya "Naya" Gabriel is a visual artivist, multimedia storyteller whose work is interwoven with social justice facilitation and community-building activities.
Dr. Yadilette Rivera-Colón is a native of Puerto Rico, a researcher, and an educator at Bay Path University. Rivera-Colon combines traditional practices with modern elements to create Vejigante masks that tell the stories of her ancestors.
Madeline Medina is an entrepreneur that composes artworks made with artificial flowers.
El Corazón / The Heart of Holyoke is a cultural place-keeping project celebrating the Puerto Rican Cultural Area of Holyoke. The project commissions public artworks, including banners, large-scale artworks, dynamic lighting, murals, food trucks, and art festivals on Main Street, to reflect the vital culture of the surrounding neighborhoods. El Corazón/ The Heart of Holyoke aims to develop spaces and places that are reflective of the Center City community, celebrate cultural heritage, and promote economic opportunity in the city.
El Corazón / The Heart of Holyoke is possible through the generous support from community members in and outside of Holyoke who donated through the "Commonwealth Places" Crowdfunding Campaign in spring 2020. The crowdfunding campaign raised a total of $25,260, which was matched with a $20,000 grant by the Massachusetts Development & Finance Agency (Mass Development). The City of Holyoke, the National Endowment for the Arts, Holyoke Local Cultural Council, Mass Cultural Council, and our Artistic Director, The Center for Design Engagement (CDE) are key partners for this project. CDE is a non-profit community & design resource center in Holyoke, MA providing progressive design, innovative public art, and civic engagement, particularly in underrepresented communities. Key CDE personnel on this project are Directors Joseph Krupczynski and Caryn Brause. The City of Holyoke's Office of Planning & Economic Development (OPED) is the lead City agency on this project.
Other partners include Mass Development, Nueva Esperanza, Inc., Holyoke Gas and Electric, the Member Organizations of the El Corazón Advisory Board including Enlace de Familias, South Holyoke Neighborhood Association, One Holyoke Community Development Corporation, Providence Ministries, Holyoke Media, Paper City Clothing Company, Radioplasma Podcast Holyoke – a Holyoke community media project, El Sol Latino, Holyoke Public Schools, and the Puerto Rican Cultural Project.