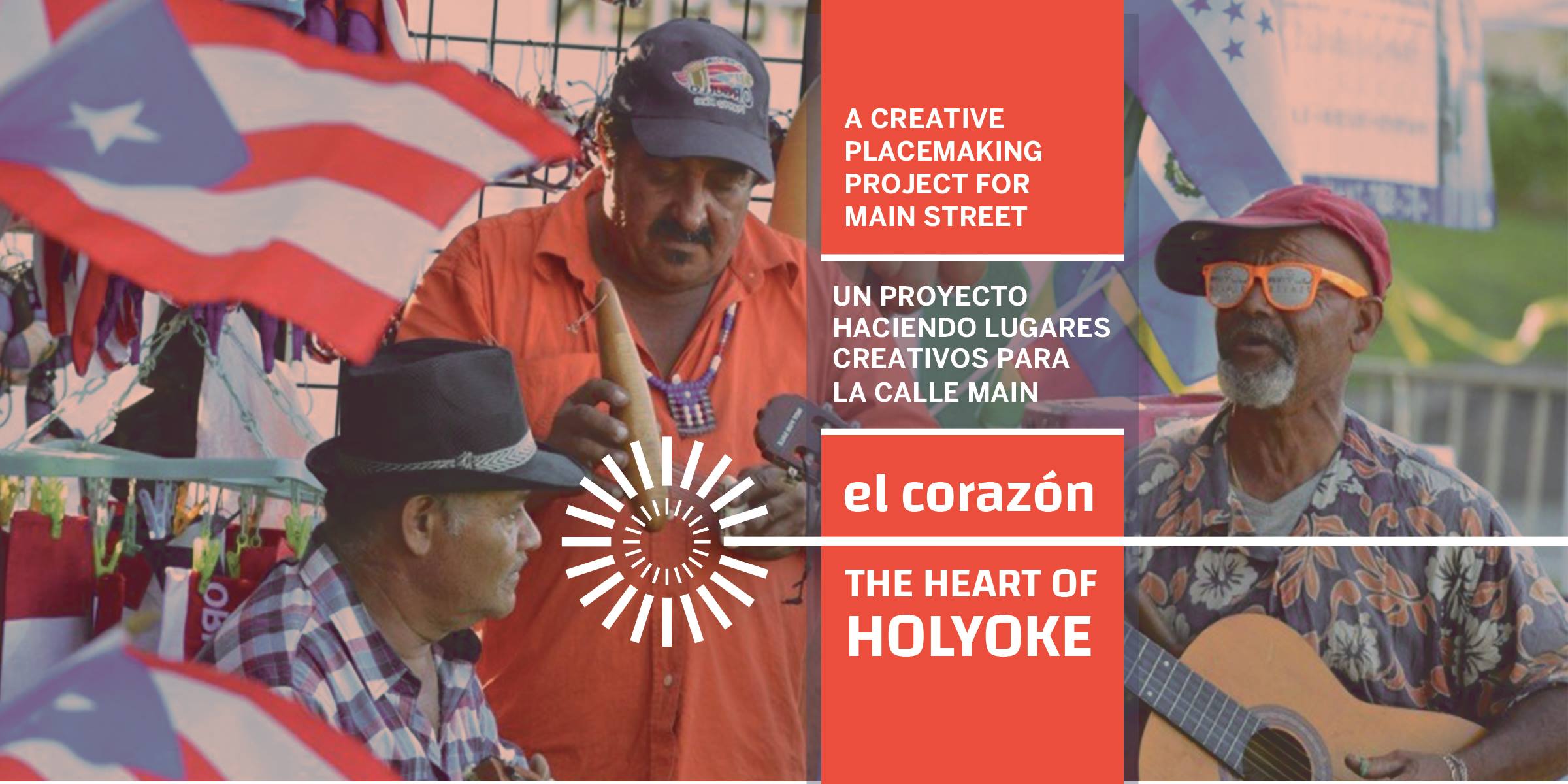 EL CORAZÓN/HEART OF HOLYOKE PLACEMAKING
CALL FOR ART
El Corazón / The Heart of Holyoke is launching a second phase of public art projects. We are seeking local artists with strong connections to the vibrant Puerto Rican/Latinx community in Holyoke. This call for art is for the following public projects to be installed along Main Street:
LARGE SCALE PHOTO PROJECT AND MULTIPLE PANELS PROJECT
The artists selected for these projects will be asked to create work that responds to community-identified themes and ideas that contribute to creating a Main Street that is a safe and vibrant gateway to the city. Selected artists will be mentored by interdisciplinary artist Shey Rivera Ríos during the process of creating their pieces. Mentoring activities include: 1) virtual sessions for project development, including topics such as public art, culture and planning, and the history of the City of Holyoke, and 2) individualized project development guidance. More info about Shey Rivera Ríos here: https://www.sheyrivera.com/
To read full Call for Art, please visit: https://holyokeredevelopment.com/projects/current-projects/el-corazon-the-heart-of-holyoke
SUBMISSION DUE BY JUNE 30, 2020 / MIDNIGHT
Submission can be made online HERE: (forms.gle/PTUBq42Skfun5RwdA)
———-
TIMELINE
June 30th:  PROPOSALS DUE
July 20th: Artists Selected and Notified
———-
El Corazón / The Heart of Holyoke is an exciting placemaking project celebrating the Puerto Rican Cultural Area of Holyoke. The project supports the creation of a vibrant Main Street with colorful banners, large-scale artworks, dynamic lighting, beautiful murals, food trucks, and art festivals; a Main Street that reflects the vital culture of the surrounding neighborhoods; a Main Street that supports emerging businesses with safe and walkable streets. El Corazón/ The Heart of Holyoke aims to develop spaces and places that are reflective of the Center City community surrounding Main Street and promote economic opportunity.
El Corazón / The Heart of Holyoke Placemaking project is possible through the generous support from community members in and outside of Holyoke who donated through the  "Commonwealth Places" Crowdfunding Campaign this past spring. The crowdfunding campaign fundraised a total of $25,260, which was matched with a $20,000 grant by the Massachusetts  Development & Finance Agency (MassDevelopment). The City of Holyoke, the National Endowment for the Arts, Holyoke Local Cultural Council, Mass Cultural Council, Art Works and our Artistic Director, The Center for Design Engagement (CDE) are key partners for this project. CDE is a non-profit community & design resource center in Holyoke, MA providing progressive design, innovative public art, and civic engagement, particularly in underrepresented communities. Key CDE personnel on this project are Directors Joseph Krupczynski and Caryn Brause. The City of Holyoke's Office of Planning & Economic Development (OPED) is the lead City agency on this project.
Other partners include Mass Development, Nueva Esperanza, Inc., Holyoke Gas and Electric, the Member Organizations of the El Corazón Advisory Board including Enlace de Familias, South Holyoke Neighborhood Association, One Holyoke Community Development Corporation, Providence Ministries, Holyoke Media, Radioplasma Podcast Holyoke – a Holyoke community media project, El Sol Latino, Holyoke Public Schools, and the Puerto Rican Cultural Project.
CONTACT: Cynthia Espinosa Senior Project Manager,
 413-322-5655 – espinosac@holyoke.org