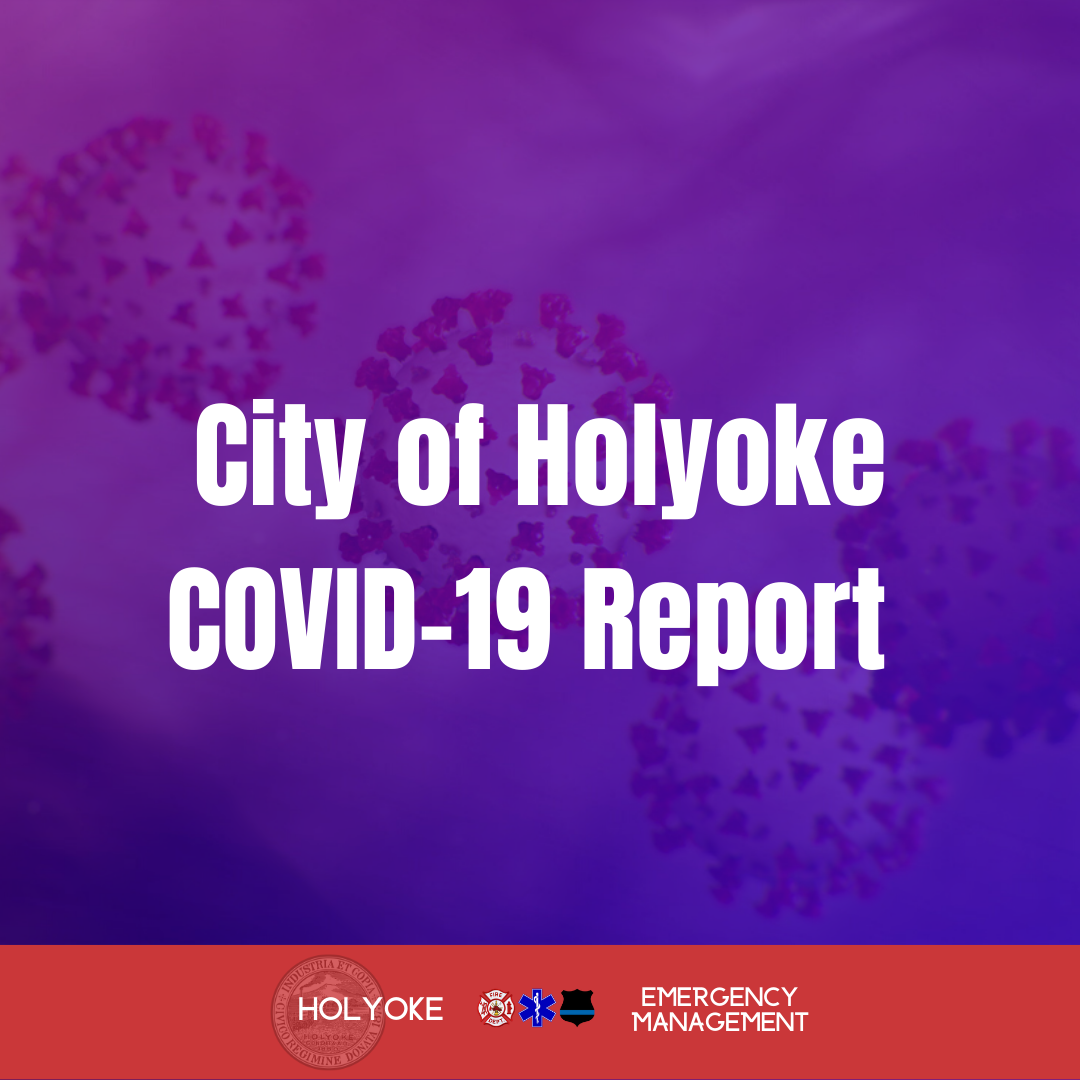 Mass website featuring all Covid-19 testing sites: www.mass.gov/covid-testmap
Massachusetts comprehensive daily "dashboard" illustrating the spread of this virus across regions and demographics: https://www.mass.gov/doc/covid-19-dashboard-june-2-2020/download
Testing has a turnaround time of 1 – 4 days and many cases are being clinically diagnosed (no testing or reporting involved). All are advised to behave as though they are carriers of Covid-19.
835 Holyoke residents have been confirmed positive by testing.
6,201 confirmed cases in Hampden County (<1% increase)
883 in Hampshire (-% increase)
335 in Franklin (0% increase)
568 in Berkshire county (<1% increase)
The curve we need to flatten: County numbers graphed over time can be found here: https://www.wmasscovid.com/
Massachusetts has now experienced a total of 7,085 deaths connected to Covid-19. *Massachusetts is now reporting "probable" Covid-19 deaths in addition to confirmed cases. 
Please be advised that you may be contacted by Public Health officials as part of the COVID-19 Contact Tracing Initiative sponsored by the Massachusetts Department of Public Health. If you have tested positive for COVID-19 or were exposed to someone who has tested positive, you may receive a call from your local Board of Health or from the MA Department of Public Health. The call will only take a few minutes and is a necessary step to limit the spread of the virus. Your information will not be shared with any other agencies and these officials will never ask for your social security number or health insurance information. If you have any questions about a call you received, contact us at coronaresponse@holyoke.org
MEMA Command Center Site Report 6/2
___________________________
We are in PHASE 1: START

Opened May 18:

Essential Businesses & Services

Construction 
Manufacturing
Places of Worship

Limited Health and Human services will begin to reopen – details here
Opened May 25
Beaches, with activity restrictions
Car Washes
Hair Salons and Barbershops
Laboratories
Libraries, curbside only
Office Spaces (employers are encouraged to keep as many employees working remotely for as long as possible)
Outdoor recreation activities, with limitations
Pet Grooming Services
Recreational Marijuana, curbside only
Retail, curbside only
General Reopening Information

Safer-at-Home Advisory
If you are wondering when your business may open, you can check the full timeline here.

PHASE 2 Preview
Employees of businesses listed in Phase 2 are permitted to enter their establishments to start preparing for their full opening. Preparations include but are not limited to completing a COVID-19 Control Plan, implementing sector-specific protocols, and complying with Mandatory Workplace Safety Standards.
View an updated list of industries and their opening phases
Governor Baker enacted executive orders regarding the safe opening of Phase 2 industries and outlined requirements for the safe resumption of amateur youth and adult sports and outdoor dining.
Reopening Phase II Full Executive Order
Health and safety requirements that apply to the reopening of all child care programs, recreational camps and municipal or recreational programs not traditionally licensed as camps as part of the phased reopening of the Commonwealth.
Childcare Provider Reopening Order
Beginning June 3, 2020, the Baker-Polito Administration is easing family visitation restrictions at nursing homes, rest homes and assisted living facilities to allow for scheduled outdoor visits.
At the commencement of Phase 2, restaurants will be allowed to serve outdoor seating only. View the full sector-specific guidelines here.
Lodging operations will commence in Phase 2, but ballrooms, meeting rooms, function halls, and all other indoor or outdoor event facilities must remain closed. Lodging operators are not permitted to host weddings, business events, or other organized gatherings of any kind. View the full sector-specific guidelines here.