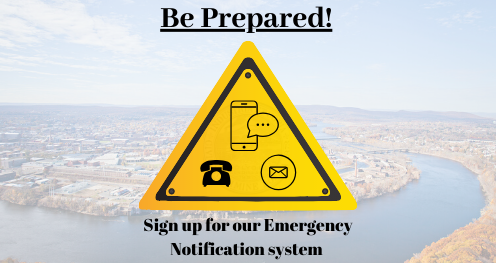 Sign up for our Emergency Notification System!
In a disaster, there are never too many ways to receive a possibly life-saving alert. That's why the City Holyoke will use multiple ways to reach you if there is a threat to your life or property. The best way to ensure you receive critical alerts is through our notification system
---
HOW WILL YOU RECEIVE AN ALERT?
There are a variety of ways that the City of Holyoke can reach you during an emergency. Residents are encouraged to sign up for all alert platforms relevant to where they live, work, and spend time in Holyoke. Residents can provide multiple points of contacts, multiple addresses for alerts, and set language preferences by registering for the alert systems offered by the City of Holyoke.
The City of Holyoke strongly recommends subscribing to both of the following systems:
Holyoke Emergency Notification System – Create an account to receive urgent notifications about local emergencies by phone, email, and/or text message. 
Nixle – Text your zip code (01040) to 888777 to opt-in or sign up online to receive email, text or voice messages with alerts and advisories from local law enforcement. This will sign you up to receive alerts from all agencies using Nixle in your zip code.
Alerts that Do Not Require Subscriptions
Wireless Emergency Alerts (WEA) – Evacuation orders and other important messages will be sent to compatible mobile devices based on your current location.
Emergency Alert System (EAS) – Alerts will interrupt local radio broadcasts and television programming in the event of a large-scale emergency.
Follow Us on Social Media